BICYCLE HIT BY CAR ON SHOULDER OR ROAD – MN INJURY LAWYER DAVID ROCHLIN
We recently settled a case for a client who was riding his bike on the shoulder of the road when he was hit by a car.  Our client is a very experienced bicyclist who dresses appropriately and rides safely. However, the driver of the car was an older man who was confused. Unfortunately, he mistakenly thought the shoulder was a turn lane.
The confused man drove his car on the shoulder of the road. He somehow didn't see our client before hitting him and knocking him off his bike. As a result, our client was thrown off of his bike and into a ditch. Our client suffered several broken bones and required a three-week hospital stay.  He was also off work for more than two months while he recovered.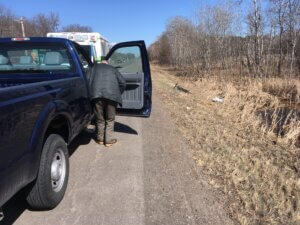 There were several reasons an attorney was needed for this bike accident:  The driver of the car initially claimed that our client rode his bike off of the shoulder and into the road. Fortunately, there were several witnesses who gave statements to the police about what they saw. We were able to use the statements, plus photographs of the scene, to prove our client was on the shoulder of the road when his bike was hit by the car.
MEDICAL BILLS FOR BIKE ACCIDENT PAID BY AUTO INSURANCE
In addition, our client had significant medical bills that our lawyer had to sort through. We had to negotiate the medical bills so that they could all be paid within the available auto insurance limits. Our lawyers were also able to get our client's lost wages reimbursed and get him significant compensation for his pain and suffering as well. Because of this accident, which occurred at the beginning of the summer, our client was unable to participate in his normal activities, vacations, or otherwise be with his family in the way he usually did.
If you are injured because a car hit you while you were riding your bicycle in Minnesota, please call us for a free consultation with an experienced bike accident lawyer.  We will answer your questions and make sure you are fully compensated for your bike accident injuries. This includes medical bills, wage loss, and more. We never charge anything unless you receive compensation.