MOTORCYCLE ACCIDENT INJURY CAUSED BY DOG ON HIGHWAY
The Stearns County Sheriff's Office reported an accident this week caused by a dog that got onto the road.  The young golden retriever was killed when it ran into highway traffic and was hit by a motorcycle. The crash happened in Stearns County on Saturday. Unfortunately, two riders on the motorcycle were injured in the crash.
When you are driving a motorcycle, it is crucial to watch the road and anticipate hazards. However, sometimes there are situations where there is nothing you can do.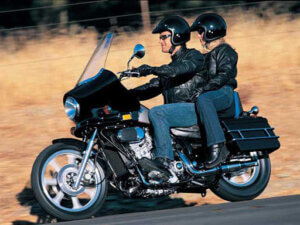 A group of 10 motorcycles were traveling northbound on 75th Avenue in Brockway Township when the dog ran out into the street, according to the news release. The motorcycles attempted to swerve to miss the dog. However, one motorcycle hit the dog, causing the motorcycle to tip and slide to a stop. The rider and his passenger on the motorcycle, a 46-year-old woman were on the bike. They were riding in the third position on the outside of the traffic lane at the time of the crash. The couple were transported to the hospital for non-life-threatening injuries.
Our lawyers have handled similar cases where a dog gets out onto a highway or road and causes an accident. We make sure the dog owner is held responsible.  If you are injured in a motorcycle crash in Minnesota, call us and speak with an attorney for a free consultation.  Our primary focus is to make sure your medical bills are paid, and you receive full compensation. We take cases throughout the state, and we will come to you.