DOES HOMEOWNERS INSURANCE COVER FALL ON ICY UNSALTED/SANDED DRIVEWAY? 
Homeowners insurance covers damage to your house from fire and other calamities, but it also provides you with liability coverage if someone is injured at your house or on your property. Our accident injury lawyers have represented many people throughout Minnesota who have been injured at another person's house and need to file a homeowner's insurance claim to get their medical bills and other compensation paid. One frequent type of case our attorneys work on is a claim against homeowners insurance because someone slipped and fell on the property owner's driveway or sidewalk going into or out of the house.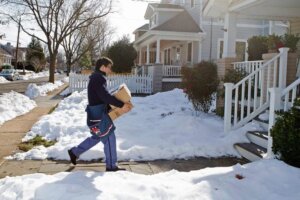 It is the homeowner's responsibility to shovel their driveway and sidewalk, and make sure it is safe for visitors.  This includes putting down sand or salt to control the ice if necessary. Minnesota homeowners know this, but do not always do it. Many times they don't think of it because they rarely use the sidewalk in the winter, and just drive on the driveway. However, it is important to think of visitors as well. For example, people today have frequent deliveries to their house.  If you are going to order things online for delivery, you need to make your property safe for the person making the delivery.
MEDICAL BILLS AND OTHER COMPENSATION FOR FALL AT SOMEONE'S HOUSE
Anytime someone falls on ice, there a possibility of serious injury. Our slip fall lawyers have had many cases of broken bones, concussions, and worse. Obviously, there will be medical bills and time lost from work when there is a serious slip fall injury. Sometimes, the cost can be very significant. Homeowners' insurance can be a big relief in these situations. The owner of the house usually wants to help, and feels guilty for not taking better care of their property. However, the medical bills can be significant, and even unaffordable. Most homeowners liability policies have at least $100,000 in coverage, and the average is probably $300,000.
Our lawyers handle slip fall cases throughout Minnesota. We have more than 25 years' experience and have recovered millions of dollars for our clients. Call us for a free consultation. We will answer your questions and make sure your rights are protected. Our primary focus is to make sure our clients get the compensation they are entitled to.