BIKE RIDER HIT BY CAR THAT DIDN'T STOP OR LEFT THE SCENE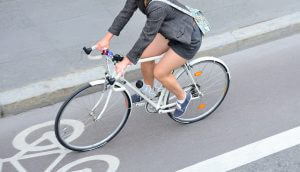 There are more bicycles on the road in Minnesota every year, and as a result our lawyers have seen an increase in bike accident cases.  Most of the bicycle cases our lawyers handle involve a car hitting the bike rider. Usually the car hit the bike in an intersection or on shoulder of the road. With intersection accident cases, the car will roll through or run a stop sign, or make a turn without looking both directions. When a car hits a bike on the shoulder of the road or in the bike lane, it is usually because the driver was distracted.
Recently, our attorneys had several bike accident cases where the driver of the car left the scene. In two of those cases, the bike rider was able to get the license plate number of the car that hit them.  But that is unusual. Most of the time the bike rider doesn't have time to do that, or has no way to record the license plate number.
However, if the driver leaves the scene, you can still get injury compensation. If you own an insured vehicle, or you live with a family member who owns an insured vehicle, your auto insurance will provide compensation in this situation. All auto insurance in Minnesota comes with uninsured motorist coverage.   That coverage will compensate you if you are injured on your bike by a car that doesn't stop, even if you are injured while riding your bicycle. Uninsured motorist compensation will pay the bike rider's medical bills, lost wages, and more.
BICYCLE ACCIDENT LAWYERS
If you were hit by a car while riding your bike, call us for a free consultation with an experienced injury attorney. Our lawyers will explain your rights to you and make sure you receive the insurance coverage you are entitled to.