INJURY TO CHILD ON INFLATABLE BOUNCY EQUIPMENT – LIABILITY CANNOT BE WAIVED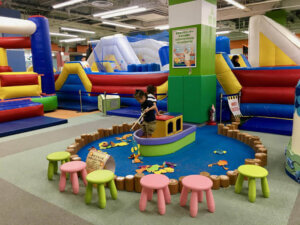 Generally, when you sign a liability waiver in Minnesota, it is enforceable. If you are injured after you signed a liability waiver, you will not be able to sue for compensation in most cases.  However, there are a few exceptions to this. For example, if the property owner has engaged in willful or intentional conduct, the waiver is not enforceable.
In many cases, a parent signs the liability waiver for their child. That waiver is enforceable if the child is injured in an accident. There was a recent case where the child tried to sue after he turned 18. He argued that he never signed the waiver, and he was no longer a minor.  Unfortunately, that argument did not work and his case was dismissed.
However, there is at least one situation where a waiver is not enforceable when a child is injured. MN law has an exception for inflatable equipment, e.g. bouncy houses. A liability waiver for bouncy equipment is not enforceable if a child is injured. The operator of the bouncy equipment must provide supervision and make sure the equipment is safe. Even if a child's parent signs a liability waiver, it will not apply to the owner of the inflatable bouncy house or other inflatable jumping equipment. The injured child, therefore, can sue for their injuries.
ACCOUNTABILITY FOR CHILD SAFETY
If a child is injured at a party or field trip on inflatable bouncy equipment, there may be a claim against the owner of the equipment or the sponsor of the party.  However, there still must be proof of negligence.  In some cases there can be an injury on the inflatable equipment that is just a natural consequence of using the equipment.  There is no case in that situation.
However, there all also situations where there was inadequate supervision or too many children were allowed to get onto the inflatable equipment at the same time. In other cases, there was no padding around the equipment, so that if a child fell off he would be injured. These injuries can be serious.
If your child was injured on an inflatable bouncy house or similar equipment, call us for a free consultation with a lawyer. Our personal injury attorneys have represented many children injured in all kinds of accident throughout Minnesota.  We make sure that medical bills are paid, future needs are provided for, and the child receives all appropriate compensation.