DOG BITE / ATTACK SHOULD BE REPORTED TO PROTECT OTHERS
Our lawyers have handled hundreds of dog bite cases over the past 25 years.  We have found that dog owners are very sensitive to claims when their dog bites or injures someone. It is different, for example, than a car accident.  With a car accident, when someone rear-ends another car, or runs a red light, they will usually admit it and turn the matter over to their auto insurer.  However, when their dog injures someone, they often do not want to report it to their insurance or the police. The dog owner may be worried about the dog, or that their insurance rates will go up.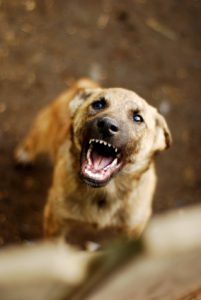 INSURANCE FOR DOG BITE MEDICAL BILLS COMPENSATION
A dog bite or attack can cause serious injury, with significant medical bills and permanent scarring. In most cases, the dog owner's homeowners insurance will cover a dog bite. The homeowners insurance will apply even if the attack occurs outside of the property, like on the street or at a park. If the dog owner is a renter, renters' insurance will apply as well. The owner may be worried their rates will go up, or the insurance won't cover their dog anymore. Either of these are possible. However, the medical bills need to get paid, and there may future needs as well.  That is the reason for having insurance.
REPORTING DOG ATTACK TO THE POLICE OR ANIMAL CONTROL
The biggest concern people have is that their dog will be put down or taken from them. Most cities and counties have specific rules and procedures regarding dangerous dogs.  The dog is not usually put down or taken from the owner after the first incident – unless it is particularly severe.  The first step is usually to declare the dog "potentially dangerous."  This means that law enforcement is now aware of the dog. If there is another incident, the owner will be required to take specific actions when the dog is around other people.
Even if the first incident is not serious, the next victim may not be so lucky.  The majority of dog bite victims are children. Starting the reporting process is important to protect others from being hurt worse. The dog does not have to be immediately put down. However, the dog owner and law enforcement know the dog is potentially dangerous. More care will be taken in future. (In some situations the dog will be put down after the first attack if it is particularly vicious.)
HOW TO CONTACT A DOG BITE LAWYER
Our dog bite lawyers handle cases throughout Minnesota.  We have represented hundreds of people attacked or bitten by a dog, including children, adults, workers on the job, family members, etc.  When you call our office, you will speak with an experienced dog bite lawyer. We will provide you with an initial free consultation, and we can meet you at your home or our office.