CAR TOTALED – INSURANCE NOT OFFERING ENOUGH
What should you do if your car is totaled in an accident and the insurance company doesn't offer enough to replace it? Our car accident lawyers discuss this with people every day.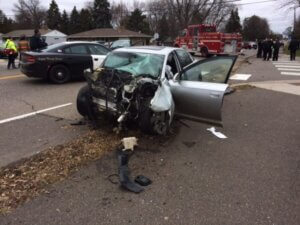 One problem recently is that insurance companies are not recognizing the increase in used cars prices. The price of used cars has gone up significantly the last few years.  Unfortunately, that seems to be taking a while to work its way into the insurance system. Dealing with car insurance after a significant crash can be stressful. However, there are a few strategies that may help.
CAR DAMAGE STRATEGIES
First, if the accident was not your fault, you may be able to negotiate with two insurance companies to get the best price.  If you have collision insurance, you can go through your auto insurance company. In addition, you can go through the other driver's auto insurance. Our car accident attorneys recommend getting prices from each insurance company. (Your insurance rates will not go up from this.) You can also negotiate with each of them separately.
Another important strategy is to have good research that support your numbers. Use the Carfax and KBB websites to get comparable prices in your area.  You should also consider talking to your car dealer, particularly if you bought the car recently.
Finally, it is important to know about the American Arbitration Association option. If your vehicle was worth less than $10,000, your insurance company is required to submit to arbitration if you request it.  Also, even if your vehicle was worth more than $10,000, the adjuster may be willing to have an arbitrator decide the fair value of the car.  AAA is a very easy and consumer friendly service.  Here is a link to their website.  You can also call us for more information.
CAR ACCIDENT LAWYERS
If you have been injured in a car accident, call us for a free consultation.  Our top car accident lawyers have 25 years' experience representing people throughout Minnesota. We will always answer your questions and provide a free consultation. Our primary focus is to make sure you get the compensation you are entitled to.
Click here for more basic information on car insurance.