SNOWMOBILE ACCIDENT INSURANCE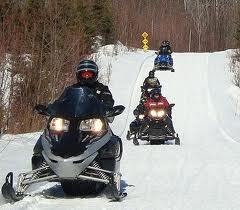 It is shaping up to be a great year for Minnesota snowmobile riders. There is plenty of snow and the temperatures are mostly moderate. We've had some pretty sparse seasons the last few years, so this is welcome news. If you are going to live through Minnesota winters, you should try to enjoy some of the activities. Snowmobiling is definitely a favorite for many people. In fact, the MN DNR even maps trails throughout the state for people to enjoy.
At the same time, it is important to this about snowmobile safety.  Our lawyers have handled many snowmobile accident injury cases. Fortunately, MN law requires snowmobile drivers and passengers to wear helmets. This has prevented many of the worst injuries. Nonetheless, there are still serious snowmobile accident injuries every year.
One question after a snowmobile accident injury is what insurance is available? The answer depends on how the accident happened and who owns the snowmobile. For example, our lawyers handle cases where a snowmobile was hit by a car. In those cases, there are several layers of automobile insurance that may apply. First, ANYTIME you are injured by a car, you are entitled to Minnesota No-Fault insurance. In most cases, No-Fault insurance will pay up to $20,000 in medical bills and $20,000 in wage loss. It doesn't even matter who was at fault in causing the accident. Additionally, if the car was at fault, there will be additional compensation from the driver's auto insurance.
SNOWMOBILE ACCIDENT INJURY ATTORNEYS
There are many different snowmobile accident scenarios. In some cases, a passenger is injured because of the snowmobile driver. Of course, there are also cases where one snowmobile runs into or cuts off another snowmobile. There are even cases where a snowmobile hits a pedestrian. In cases where a snowmobile driver causes an accident, we look to the driver's homeowners insurance to compensate our client.
If you have been injured in a snowmobile accident, call us for a free consultation. Our lawyers have more than 25 years' experience representing injury victims throughout Minnesota.