DON'T LET INSURANCE COMPANY BLAME THE WEATHER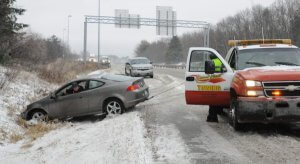 When our lawyers pursue claims for people injured in weather related Minnesota car accidents, the insurance company often will try to say that the collision was unavoidable because of the weather, unexpected ice, etc. In other words, it's not the fault of their driver … blame it on the weather conditions.
Unfortunately, some people on juries will agree with that – "it was just an accident". But yesterday, I was out driving on some very slippery roads in the middle of our beautiful winter snowstorm. It was so obvious that some people drive at safe speeds appropriate for the weather, and some don't. I can't say for sure that the same people who passed me were the ones I later saw in ditches or crashed into the medians, but there were definitely people driving too fast for the road conditions, and some of those people caused auto accidents or ended up in ditches.
Moral of the story: Drive slowly when the road is slippery. Let people pass you. And if you are ever on a jury in a car accident case, don't blindly accept the insurance company argument that you should just blame it on the weather. People who drive too fast for road conditions are driving negligently and they and their insurance company should be held accountable for any damage or injuries they cause.
LAWYERS FOR ACCIDENT ON SLIPPERY ROAD
If you are injured in a MN auto accident because another car slid into you or spun out from the snow or ice on the road, call us and speak with a car accident attorney for a free consultation so we can more completely investigate your potential claim. We are Minnesota personal injury lawyers and our attorneys have more than 25 years' experience successfully handling hundreds of cases.
Pam Rochlin previously was a partner at Meshbesher and Spence where she gained big firm experience, and will provide you with small firm attention. An attorney can meet you to discuss your car accident case at our offices in Minneapolis, Edina, Woodbury, and St. Louis Park. Our attorneys also meet people at their homes in many surrounding cities including Eden Prairie, Chaska, Chanhassen, Apple Valley, Burnsville, Maple Grove, Brooklyn Park, St. Paul, etc.