DRIVEWAY THAT IS NOT SANDED OR SALTED CAN CAUSE INJURY
This is an icy time of year in Minnesota. With weather reports of wet snow and then colder temperatures, remember to sand and salt your driveway.  Of course, you want to keep your guests and family (and yourself) safe from being injured. You just need to get out and do it. Every year, our slip and fall injury lawyers represent people who are injured in an accident at a friend's house or family member's house. If you invite people to your home, it is responsible to make sure that you have adequate lighting and a safe driveway and walkway for them to get into your house.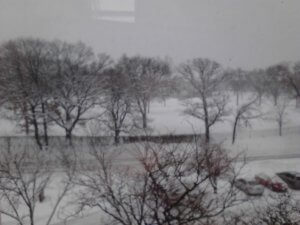 When our lawyers represent people injured in a slip fall accident at a family member's or friend's house, the homeowner-friend we are bringing the claim against is usually understanding of the situation. They know that their homeowner's insurance will pay the damages. Rarely have there been cases where the situation causes conflict between the friends or family. Even if there is initial discomfort, they always get over it. Our accident injury attorneys have also had many cases in Minnesota brought by workers. For example, mail carriers or pizza delivery drivers  injured on someone's property. Many of those cases come from a slip and fall on an icy driveway or sidewalk.
COMPENSATION FOR SLIP FALL ACCIDENT
Our recommendation to the homeowner is to prevent the icy driveway or walkway accident to begin with. Just keep your property clean and safe for guests and visitors. And if someone ever is injured on your property, try not to get too stressed out about the legal issues. Just turn the case over to your homeowner's insurance and they will take care of it for you.  That's why you bought the insurance to begin with. If someone is injured on your property, you should want your homeowner's insurance to cover their medical bills and other compensation.
Of course, if YOU are ever injured in an accident on someone else's property, call and speak with a slip fall lawyer for a free consultation. We are Minnesota personal injury attorneys and our injury lawyers have more than 25 years' experience. We have successfully handled hundreds of slip and fall cases. The initial consultation is free. Further, we only charge based on a percentage of the compensation you receive.
We have big firm experience, but we are also able to provide small firm attention. An attorney can meet with you to discuss your slip fall injury at our offices in Minneapolis, Edina, Woodbury, and St. Louis Park. Our lawyers also meet people at their homes in many surrounding cities including Bloomington, Chaska, Chanhassen, Apple Valley, and Burnsville. Also, Maple Grove, Brooklyn Park, Maplewood, St. Paul, etc.