YOUR RIGHTS AFTER A CAR ACCIDENT
Our Minnesota car accident injury lawyers often get calls from people who were just in a car or truck accident, Often, the first question to our attorneys is, "What are my rights?" Here is a short summary of what you are entitled to, and what you should do, if you are in a collision in MN: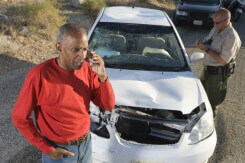 Property Damage:
If your vehicle is damaged in a crash, check your insurance policy to see if you have collision coverage. If so, your insurance company will pay for the repairs to your vehicle (or for the value of your car if it is a total loss) regardless of who caused the accident. In other words, if you have collision coverage, your insurance will pay for your car or to fix it even if you caused the accident. (You have to pay your deductible.)
You can use your collision coverage to fix or replace your car even if the accident was the other driver's fault. Your insurance company will charge you your deductible, but they will refund the deductible to you when they collect it from the other driver's insurance. If you don't have collision coverage on your policy (liability only), then the other driver's insurance company is responsible for paying to repair or replace your vehicle if they were at fault. Call our MN car crash personal injury attorneys to obtain more information about obtaining money to replace or repair your vehicle.
What are my rights if I am injured in a car accident?
If you were injured in a MN motor vehicle crash, you are entitled to what are called No-Fault benefits. These benefits are called "no-fault" benefits, because it doesn't matter who is at fault. Even if YOU caused the accident, you are entitled to no-fault benefits under Minnesota's No Fault laws. No-fault coverage pays for your medical bills (up to $20,000) and a portion of your income loss (up to $20,000). The income loss you are paid is either $500.00 per week or 85%, whichever is less.
No-fault coverage also pays for medical transportation. Also lost wages and re-training costs. In addition, there is replacement services costs (if you need assistance from another person), funeral expenses, and a few other costs.
For more information on your rights to no-fault benefits, see What are No-Fault Benefits. You can also call and speak to one of our MN auto accident lawyers.
There may also be additional compensation from the other driver's auto insurance for your pain and suffering, inconvenience, future needs, etc. This is something our auto accident lawyers will discuss with you in more detail when you call our office.
What are my rights if I was a passenger in someone else's car?
Even if you are a passenger in someone else's vehicle, you are entitled to Minnesota no-fault benefits. For more information, see our blog post titled "I was a passenger in a car accident – what are my rights?" Again, you are also welcome to call us for a free consultation and a MN car crash attorney will answer your questions.
What are my rights if the driver that hit us doesn't have insurance?
Even if the other driver who caused the accident is not insured, you have the right to obtain compensation for your injury through uninsured motorist coverage. Uninsured coverage comes with every auto policy in Minnesota and covers the vehicle you were riding in. For some general information about this type of coverage see I was in a car accident — what does my insurance cover?
If you are involved in a car crash, please call us so that our top lawyers can explain your rights to you in more detail. At a minimum you will have the right to Minnesota No-Fault benefits.  You may also be entitled to compensation from the insurance company of the car or truck that hit you. Our best car accident attorneys will discuss how to get your vehicle damage paid for as well as your other rights.
Contact Us For More Information
Pam Rochlin and David Rochlin are Minnesota personal injury attorneys with more than 25 years' experience successfully handling hundreds of auto accident cases. Pam was a former partner at Meshbesher & Spence, and offers small firm attention to her clients.
Our car crash lawyers can meet with you to discuss to discuss your case and explain your car accident rights at our offices in Edina, Woodbury MN and Minneapolis. We also meet people at their homes to discuss car accident injuries. Our lawyers come to St. Paul, Rogers MN, Elk River, and Maple Grove. Also, Anoka, Coon Rapids, Brooklyn Park MN, Chanhassen, Chaska, Lakeville, and other cities throughout Minnesota. We will always provide you with a free initial consultation. Further, we never charge anything unless you receive compensation for your injuries.