CAR ACCIDENT – OTHER DRIVER HAS NO INSURANCE – MN LAWYER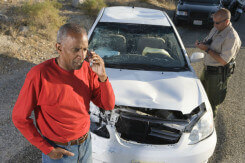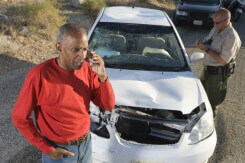 What do you do if the other driver in an accident has no auto insurance?  You have to use your collision and uninsured motorist coverage.
Tip: When You Buy Auto Insurance You Should Make Sure It Includes Plenty Of Uninsured Motorist Coverage:
There are WAY too many people driving on Minnesota roads who have no insurance for their car. (We recently read the number is more than 10% of all drivers). This may be bad for them, but also very bad for you. Unfortunately, often the people who are irresponsible enough to drive without insurance are also not the best drivers and cause car crashes.
If you are hit by a car with no insurance, you will need comprehensive collision coverage to pay for the damage to your car. If you only have liability coverage, you will be on your own for the vehicle damage. You can still sue the uninsured driver for your vehicle damage, but collecting the judgment may be difficult or impossible.
The one good thing is that your liability insurance comes with uninsured coverage to compensate you if you are injured. However, this is limited to the amount of coverage you purchased.  Therefore, our car accident lawyers always advise people to check their policy and make sure they are well covered – preferably before they are in an accident with an uninsured driver.
INJURY COMPENSATION WHEN THE OTHER DRIVER IN UNINSURED
If you are injured by an uninsured driver, it is your "uninsurance" auto coverage that will provide compensation to you.  Uninsured motorist coverage is required in every automobile insurance policy in Minnesota, but the minimum amount of coverage can be as low as $30,000.  It is up to you to decide how much coverage you buy.
If you are in a car crash with an uninsured driver, call our office to speak with a lawyer and learn your rights.  An experienced MN car accident attorney will review your policy with you and make sure you are treated fairly. We will also advise you on how to work with the police to make sure the other driver faces the appropriate consequences of his/her actions. Our lawyers have over 25 years' experience successfully handling hundreds of car accident injury cases throughout Minnesota.