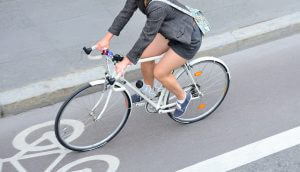 BICYCLE RIDER BAD INJURY AFTER BEING HIT BY CAR
The police reported that a bicyclist is in critical condition after being hit by a car on Excelsior Boulevard yesterday. The bicyclist was hit on West 32nd Street and Excelsior Boulevard. Excelsior Boulevard was closed at France Avenue for a few hours due to the accident, but reopened around 8 p.m., according to authorities. The driver of the car stayed on scene and was cooperating, Minneapolis Police said. The driver and injured bike rider have not been identified.
We are pleased that the driver at least stayed after the accident.  Our attorneys have had too many cases where a car hits a bicycle and then the car leaves the scene to avoid responsibility for the liability – especially after the bike rider is seriously injured in the accident.
Minnesota is a state that encourages bicycle riding.  There are bike paths throughout the state, and many MN cities have a bike lane on the road in many areas.  We encourage bicycle riders to ride carefully, wear a helmet, obey traffic rules, and generally be careful.  However, most cases of a vehicle versus bike accident happen because the driver of the car was not paying attention or was briefly distracted. As summer approaches, it is crucial for car and truck drivers to watch out for bicycles on city streets.  (Motorcycles too.)
MEDICAL BILLS AND OTHER COMPENSATION FOR BIKE ACCIDENT
A bike accident with a car can cause serious injuries for the person riding their bike. If you are injured on a bicycle hit by a car, call us for a free consultation with an experienced personal injury lawyer.  We handle cases in Minneapolis, St. Paul, and throughout MN. An attorney will explain your rights to you, help you get your medical bills paid and reimbursed for lost income, and make sure you are treated fairly by the insurance company.