TRAFFIC SLOWS DOWN AT ENTRANCE RAMPS SO MORE RISK OF MULTI CAR CRASHES
The Minnesota State Patrol reported a multi vehicle crash yesterday at the Westbound I-94 ramp existing to Highway 241.  All involved vehicles were westbound I-94 exiting to Hwy 241. As the vehicles on the ramp were slowing due to a stalled vehicle, the rear-most vehicle, a Nissan Sentra rear ended a Nissan Murano, pushing the Nissan Murano into the Nissan A2S. The Nissan A2S was then pushed into the Honda Accord. Our car accident lawyers have handled many cases like this in Minnesota.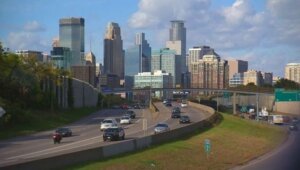 Car accidents near or at an entrance or exit ramp are very common.  When cars are driving on the highway at highway speeds, traffic can suddenly slow, or even stop, as other vehicles start to merge onto the highway at an entrance ramp. Unfortunately, in this case, there was a stalled vehicle that caused the problem and led to the crash when the oncoming cars were driving too close or fast to control their cars.
It is important to be aware of upcoming entrance and exit ramps as you are driving on a highway, and stay alert for sudden changes in traffic speed. But there is nothing you can do if the driver behind you is not paying attention and you are rear-ended on a highway entrance ramp or exit ramp.
If you are injured in a crash like this, you should call us and speak with an attorney for a free consultation. An attorney will answer your questions and explain your rights.  We will make sure your medical bills are paid and lost wages reimbursed. You may also be entitled to compensation for pain and suffering, and possible future needs. Our car accident lawyers have more than 25 years' experience making sure that our clients are fully compensated for their injuries after a car crash in Minnesota.