DO YOU HAVE ENOUGH AUTO INSURANCE? 
Our lawyers met with four new clients this week, involved in four different car accidents. But, they all had one thing in common (besides recently being injured in an accident). They each commented that they are now going to review their insurance policies and get more insurance coverage for the future — in case something like this ever happens again. No one expects to be in a serious accident. But they happen to people every day. That is why you have insurance.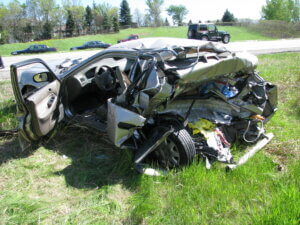 WHAT IF THE OTHER DRIVER DOESN'T HAVE ENOUGH INSURANCE? 
A big issue that often comes up for our attorneys is our client not having purchased enough uninsured (UM) or underinsured (UIM) motorist coverage for a car accident.  UM/UIM auto insurance provides extra compensation if another car causes the crash and you are injured. Every auto insurance policy in Minnesota has some UM/UIM coverage, but you choose the amount you want to purchase. If the other driver doesn't have enough insurance, or does not have any insurance, this can be very important. When a bad crash causes serious injuries or death, you and your family will be very relieved to have this extra coverage – and it's not very expensive!
We don't sell insurance (although maybe we should). We are just telling you this because our lawyers regularly meet people who wish they had purchased more auto insurance BEFORE the auto accident.
One more tip: If you purchase an umbrella policy (which we also recommend because it is not expensive and can provide great coverage), make sure your umbrella includes extra uninsured and underinsured auto accident coverage for you and your family.  Many insurance companies don't include this. However, there also many insurance companies that do include it.  Buy from one of the insurance companies that includes underinsured and uninsured coverage in their umbrella policy. Hopefully you never have to use it. But if you or a family member are in a serious crash, you will be relieved to have this extra protection.