DRIVING FOR WORK CAR ACCIDENT COMPENSATION
Our lawyers frequently get calls from people injured in a car accident while driving for their work. They usually ask, "What are my rights if I am injured in a car accident while driving for work?" "Do I get Workers Compensation?" "Can I still sue the other driver?"
The answer is, if you are injured in an on-the-job car accident, you have a variety of rights. This starts with workers compensation benefits. Workers compensation will pay your medical bills and 2/3 of your lost wages while you are unable to work. Click here to see additional workers compensation rules. However, in additional to workers compensation, the other driver is also responsible.
AUTO INSURANCE AFTER ON THE JOB AUTO ACCIDENT
If the other driver was at fault, you are entitled to compensation from their auto insurance. You can definitely receive workers compensation plus additional compensation from the other driver. In fact, you must receive additional compensation from the other driver just to break even. As mentioned above, you only receive 2/3 of your lost wages from workers compensation.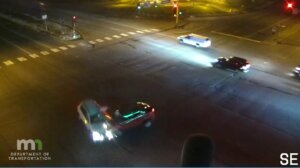 In addition, your employer also benefits when you pursue a claim against the other driver. Your employer's worker's compensation premium rates are partially determined by the amount paid on claims. When you pursue a case against the other driver for your work car accident, the other driver's auto insurance will repay worker's compensation. This will reduce the amount of the claim and potentially reduce your employer's premium.
PAIN AND SUFFERING COMPENSATION AFTER WORKER CAR ACCIDENT
Unfortunately, workers compensation benefits after a car accident are limited. You get partial economic reimbursement, but nothing for pain and suffering or the effect on your life. A claim against the other driver will allow additional compensation for things workers comp doesn't cover.
EXPERIENCED CAR ACCIDENT ATTORNEYS
Our lawyers have more than 25 years' experience representing can accident victims throughout Minnesota. If you have been injured in a car accident while you were working, call us for a free consultation. A top lawyer will answer your questions and make sure you get all the compensation you are entitled to.