HIT AND RUN CAR ACCIDENT LAWYERS
It is sad and frustrating, not to mention illegal, that a driver would cause an auto accident and then flee the scene to try to avoid responsibility.  Unfortunately, that is something our car accident lawyers have to deal with for clients several times each year.  The other driver may hit and run because he was driving drunk, or possibly because she had no insurance or has had too many accidents and is worried about losing her insurance.
Whatever the reason, a hit and run car accident puts the car crash victim in a bad position. It actually makes them a victim a second time – first because of being hit, and then second because the at-fault driver fled without taking responsibility for the damage. When you call our office and speak with a top car accident lawyer about a hit and run crash in Minnesota, we will help you to work through this problem and explain your rights to you.
WHAT TO DO AFTER HIT AND RUN CAR ACCIDENT
If you are the victim of a hit and run auto accident in MN, the first thing to do is to call the police.  If possible, stay at the scene until the police get there, and cooperate in every way possible. Our auto accident lawyers have had several clients who chased after the hit and run driver and called the police on their cell phone while they were driving.  This has worked several times and the police caught the driver that had tried to flee, but it is obviously dangerous and not something we recommend. The best thing you can do is get the license plate number and give that to the police.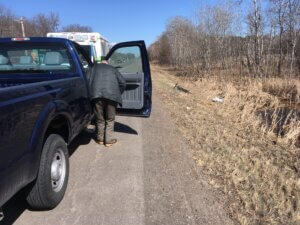 If the hit and run driver did not have insurance, your insurance will pay for your vehicle damage if you have collision coverage.  In addition, if you or someone in your car was injured in the crash, your MN auto insurance will pay for medical bills and lost wages pursuant to the No-Fault laws. In addition, you may be entitled to other compensation – such as pain and suffering – through the Uninsured Motorist coverage that is part of every insurance policy in Minnesota.
However, you do have to show that you tried to get the hit and run driver's license plate number or other information. This is usually required by your auto policy.  If you don't at least make the effort, your insurance company may try to deny your claim.  A car crash attorney in our office recently had a case where the insurance company tried to deny the claim because our client did not get any information, even though our client did not have anything to write with in the car and did not have his cellphone with him.
ATTORNEYS FOR HIT AND RUN ACCIDENT MINNESOTA
If you are the victim of a hit and run car crash in MN, please call our office and speak with one of our auto accident lawyers for a free consultation.  A best car crash lawyer will explain your rights to you and go through the insurance coverage issues.  If we take your case, we never charge anything unless you receive compensation.
The Rochlin Law Firm is owned by Pam and David Rochlin.  Our lawyers have over 25 years' experience successfully helping hundreds of people who have been injured in accidents as the driver or passenger of an auto, motorcycle, and pedestrians.  Our primary focus is on getting full and fair compensation for our clients.  Pam Rochlin is a former partner with Meshbesher and Spence and was the 2014 – 2015 president of Minnesota Women Lawyers, an organization with over 1300 members.
You can meet with a car accident attorney at our offices in Minneapolis, Woodbury, Edina, or St. Louis Park.  Our top auto accident lawyers will also meet with people to discuss a fleeing the scene car accident injury case at people's homes throughout MN including Anoka, Forest Lake, Burnsville, Maple Grove, Chaska, St. Paul, Roseville, Brooklyn Park, Albert Lea, and other cities throughout Minnesota.