ACTIVITY LIABILITY WAIVER SPORTS INJURY WAIVER RELEASE
With our three children in a variety of activities at school and extra curricularly, I am often "required" to sign a "Release of Liability" as part of the registration process for one of the kids. I say required because many schools, clubs, and other organizations require a "Release" (or waiver) of liability claims be signed before your child can engage in a particular activity. As a lawyer who handles injury cases, I want to tell you there are a few changes you can/should make on the liability waiver when you sign it that will protect your child and your family.
There can be good reasons behind a liability release. I fully understand that if one of my children suffers an injury naturally related to engaging in the sport we are signing up for there should be no liability to the organization – that's the risk we chose to take.
For example, last summer our oldest child's wrist was fractured while playing soccer when another player stepped on him. Injuries like that on the field are an obvious risk of the sport. Therefore, it is understandable to require a waiver of claims relating to injuries that are a natural risk of an activity. However, most sports activity waivers are so broad that they often release potential liability far beyond the risks of the activity you are registering the child for.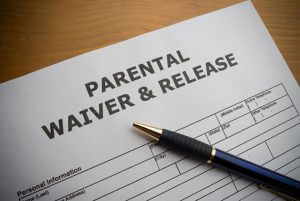 ACTIVITY WAIVERS BROADER THAN NECESSARY
Most activity waivers will release "any and all claims arising out of transportation to and from the activity." This means if your child takes a bus to an activity and the driver negligently causes a crash and your child is badly injured, your child may not be able to pursue a claim against the bus insurance(and obtain compensation) because you signed the release as part of the registration process. Getting in a bus accident because of a negligent driver is not a natural risk of the activity you signed your child up for. I always cross off language that waives claims relating to transportation.
Releases and waivers also often include the broad statement that you are releasing any claims "…for the negligence of all employees, agents, representatives, etc. of [the organization]." Again, I always cross off language that precludes any negligence claims before I sign the release. Whether at school, on the field, or in any other venue, there is no reason the organization should not be responsible for their own negligence just like any other property owner.
Because releases are often broader than what is reasonable, it is important to read the release carefully to make sure that you cross out any language that could prevent your child from bringing a claim if they are injured because of negligence having nothing to do with the natural risks of the activity.
INJURY COMPENSATION LAWYERS
If you or your child are injured in an accident at school or in any other activity, call us and speak with an injury attorney for a free consultation – even if you have signed a waiver. There are some situations where our attorneys have gotten around a release or a waiver. Also, the law does change from time to time so a particular waiver could later be deemed unenforceable.  Sometimes we find out that there is a different party with insurance coverage that could compensate you and for which the liability waiver would not apply.
We are Minnesota personal injury attorneys and our lawyers have over 25 years' experience successfully handling hundreds of cases throughout Minnesota. We will be happy to look at your potential injury case, and we never charge anything unless you receive compensation.
Pam Rochlin previously was a partner at Meshbesher and Spence where she gained big firm experience, and will provide you with small firm attention. You can meet with a lawyer at our offices in Minneapolis, Edina, Woodbury, and St. Louis Park. Our attorneys also meet people at their homes in many surrounding cities including Eden Prairie, Chaska, Chanhassen, Apple Valley, Burnsville, Maple Grove, Brooklyn Center, Roseville, St. Paul, etc. An accident injury lawyer will answer your questions and make sure your rights are protected.