RENTAL CAR ACCIDENT – MN ATTORNEYS
We recently had a call from someone who asked: "I was in a car accident or got into a crash while driving a rental car, what are my rights and what am I responsible for?"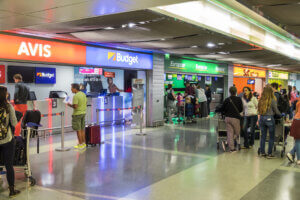 In general, if you own a car in Minnesota, your auto insurance will cover you if you damage a rental car in an accident. This insurance coverage will apply even if you rent a car in another state. If you are at fault in the auto accident and damage another vehicle or injure someone, your vehicle insurance should cover you for that as well. However, the best advice is to read your auto insurance policy and ask your insurance agent to verify your coverage before driving a rented vehicle.
If you do not own an insured vehicle in Minnesota, the car rental agency must provide the mandatory minimum liability insurance ($30,000) for the rental car. The company cannot require the renter to provide that basic insurance in case of a crash or accident. However, the rental car agency is only required to provide the $30,000 of liability insurance. That means damage you cause to another vehicle and people you injure. The rental car company is generally not responsible for any liability beyond that.
LIMITED LIABILITY FOR RENTAL CAR COMPANY
So, if you cause a serious car accident in a rental car in Minnesota, where people are injured, you may be personally responsible to pay compensation for their injuries beyond the $30,000 in liability coverage from the rental car company. In addition, the rental car company's insurance will only cover liability to other cars and drivers. If you do not have your own insurance and you damage the rental car, you are responsible for that damage.
If you have your own insured vehicle and cause an accident while driving a rental car, your insurance will be liable for the damage rather than the rental car agency's insurance.  The rental car's insurance only comes into play if you don't have your own insured car.
It gets a bit more complicated if YOU are injured in an accident while you are driving a rental car, particularly if the other driver is at fault and is uninsured or underinsured.
The bottom line is that people who own a car or truck in MN, and have insurance on it, should be covered for rental cars to the same extent as their personal coverage. (But again, READ your auto insurance policy and talk to your agent to determine your particular coverage.) However, if you do not have your own auto insurance, you should consider buying separate coverage if you rent a car in MN or while out of state.
RENTAL CAR ACCIDENT INJURY MN
If you are injured in an accident while driving a rental car, call our MN car accident attorneys for a free consultation as soon as possible.  Our Minnesota personal injury lawyers will explain your rights to you regarding your rental car accident and advise you on how to proceed. Pam Rochlin and David Rochlin are lawyers with over 25 years' experience successfully handling hundreds of auto accident injury cases – including many involving a rental car, Uber or Lyft. We will provide you with a free initial consultation, and we always only charge based on a percentage of the compensation you receive
Pam Rochlin previously was a partner at Meshbesher and Spence where she gained big firm experience, but can now provide small firm attention. We will make sure you get the compensation you are entitled to for medical bills, lost wages, and more. You can meet with a MN car accident attorney at our offices in Minneapolis, Edina, Woodbury, and St. Louis Park. A car accident lawyer can also meet you at your home to discuss your rental car accident in surrounding cities including Rogers, Brooklyn Park, Maple Grove, Chaska, Chanhassen, Apple Valley, Burnsville, Maplewood, St. Paul, etc.