PARKING LOT CAR CRASHES ARE AMONG MOST FREQUENT
According to insurance industry statistics, car crashes accidents occur very frequently in parking lots.  We have read that up to 20% of all car crashes in the country occur in a parking lot.  Fortunately, most parking lot collisions only involve damage to the vehicles, because the speed of the cars is usually slow.  However, our car accident lawyers have represented many people injured in a parking lot accident, mostly when they were walking behind a car that backed into them or a car ran a stop sign and hit them while they were walking in the parking lot, but also sometimes when they were in their car and injured by a low impact crash after the other car T-boned them or rear-ended them. When a car runs into a pedestrian in a parking lot, the result can be a broken leg,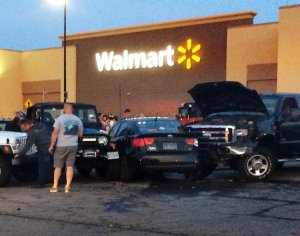 broken hip, head injury, or other types of physical injury. Of course the insurance company always claims our client is at fault, or at least partially at fault, for not seeing the car and avoiding the impact – even if the car just suddenly backed out as our client was walking by.  That's why our lawyers always recommend getting the names and contact information of any witnesses if possible.
If you have been injured in Minnesota because a car hit you in the parking lot, or in any type of parking lot accident, please call us and speak with an attorney for a free consultation. Our lawyers have over 25 years' experience successfully representing people injured in all kinds of car accidents. We will protect your rights and make sure you receive the appropriate compensation you are entitled to.