DON'T DRIVE TOO FAST ON ROAD DURING DEER MATING SEASON
A recent article by KEYC in Mankato reminds us that we are just a few weeks away from deer mating season, and at increased risk for deer and vehicle crashes. According to the Department of Public Safety, from 2013 to 2015 there were 15 people killed in deer–vehicle crashes in Minnesota and 986 injury crashes from hitting a deer.
Drivers should be on the lookout for deer near roadways because it is the peak month for deer–vehicle crashes. Deer mating season coupled with fewer hours of daylight means increased deer movement—and an increased chance of hitting a deer on the roadways. Dusk is the time deer come out and are most likely to get hit by a car.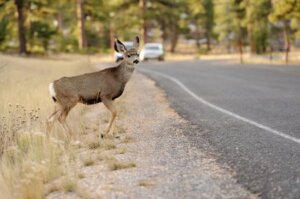 Sgt. Dan Anderson of Minnesota State Patrol said, "We're asking that you slow down, obviously, but do not to steer to avoid that animal. I know it's kind of instinct a lot of times to try to do that but a lot of times that causes you more problems than just striking the deer so certainly slow down, but do not steer to avoid the collision. If you start trying to avoid the deer, then you go off the road. And that usually starts causing more accidents." You can always fix the car, but avoiding the accident all together is Minnesota's State Patrol's goal.
"Be particularly attentive in the evening and early morning hours. That's when the deer activity kind of seems to be ramped up. If you are driving through those areas that you know are wooded, pay particularly close attention at that time," Sgt.  Anderson said. In the past two years every county in the state has reported a deer–vehicle accident.
So while you're enjoying the fall colors out on the road, be cautious of the deer jumping out—especially since they usually travel in groups. "And when you do see them, like I said, slow down— drive defensively because you don't know what those animals are going to do. They're very unpredictable as to what direction they're going to head," Sgt. Anderson said.
PASSENGER INJURED WHEN CAR HIT DEER DRIVER RESPONSIBLE
At the Rochlin Law Firm, our Minnesota attorneys have represented a number of passengers who have been injured in when the vehicle driver hit a deer.  If the driver of the car is going too fast, or ignores the deer on the road without slowing down or taking other evasive action, the driver is responsible for the crash and any injury to the passenger. You can't sue the deer, but you can go after the insurance of the driver who hit the deer if he was driving too fast where a deer could jump out.  If you have been injured in a MN accident because you were a passenger in a car that hit a deer, call us for a free consultation with a lawyer to evaluate your case and explain your rights.