CAR ACCIDENT INJURY FAMILY MEMBER DRIVING AT FAULT- MN INSURANCE COVERAGE
The Minnesota Court of Appeals decided an important case last week. A mother and son were in the family car when the son, who was driving, caused an accident that seriously injured his mother.
Because of the mother's serious injury from this car accident, the family decided to make a claim on their auto insurance policy.  Their policy had $500,000 of insurance liability coverage. What they didn't know, was that the insurance policy also had a "drop down" provision. This provision said if a family member caused an auto accident that injured another family member, the coverage would be $30,000 instead of $500,000. Since the son was the driver in the accident that injured his mother, the insurance company would only pay $30,000. It didn't matter that the mother was very seriously injured and her medical bills alone were far more than that.
DIFFERENT INSURANCE COVERAGE FOR FAMILY MEMBER INJURED
If the son had caused an accident that injured an unrelated person, there would have been $500,000 of coverage. However, because he injured his own family member, the coverage was only $30,000.
The family sued the insurance company and said they were tricked.  No one told them about this "drop down" provision for a family member's injury when another person from the family was driving the car. They said they would never have agreed to it if they had known about it. However, the court of appeals dismissed their case and said they should have read their insurance policy.
This case is sad for many reasons, starting with the mother's serious injury from the crash.  But it is also sad that the insurance company can get away with this "drop down" provision without bringing it to the attention of the customer.  Even if the customer read the insurance policy, the policy language tends to be complex and difficult to understand.
TALK TO YOUR AUTO INSURANCE AGENT
The insurance agent should have warned the family and let them decide if they want other insurance. It doesn't cost much more to get an auto insurance policy without the drop down coverage provision. Why wouldn't you want coverage in case a family member causes a crash that injures a sibling or other family member?
The moral of the story is make sure you have a good auto insurance agent, ask questions, and read the policy when you get it.  Most people would want to cover their own family for injuries if they cause an accident while driving the family car.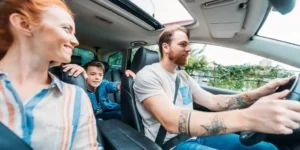 If you are injured in a Minnesota car accident where another family member was driving, please call us and speak with a lawyer for a free consultation. Our attorneys have more than 25 years' experience representing people injured in an auto accident, and we have handled many cases where the accident was caused by a family member.