BAD LIGHTING AT CONSTRUCTION SITE CAUSES TRIP FALL INJURY
We recently had a family member injured while walking near a construction site. She had been at a Thanksgiving dinner, and decided to take her dogs for a walk when she got home.  Long story short, she tripped and fell and broke a bone in her foot and has a big bruise on her upper thigh.  She was walking the dogs towards a Caribou and was approaching a new apartment construction site where it is very dark, with no streetlights. Parts of the sidewalk were under construction and had been dug up.
She was walking on the street because the sidewalk was unusable. However, because it was very dark and cars were coming close to her and the dogs, she got back up on the sidewalk as soon as she could. When she stepped up to the curb, there was a black object she did not see that was left by the construction crew. She tripped and fell, and now has to deal with the injury.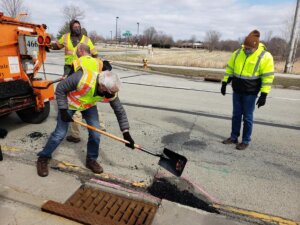 NEGLIGENT CONSTRUCTION COMPANY RESPONSIBLE
When a construction company tears up a sidewalk as part of their building project they need to take safety precautions. They should block off the area and arrange for a safe walkway, or post warning signs and make sure there is good lighting until they are done. Our lawyers have represented many people injured in MN trip fall cases because of bad or inadequate lighting or lack of a warning sign, including at a construction site. Fortunately, this family member will just be in a boot for a short time and then should be fine.  However, we have represented many people who have sustained a serious injury from a fall like this.
If you are injured from a fall at a construction area because of bad lighting conditions, or a hidden hazard, please call us and speak with a lawyer for a free consultation. We will answer your questions and make sure your rights are protected. Our accident injury attorneys take cases throughout Minnesota, and we will come to you.