SNOW ON ROADS APRIL 14 BLIZZARD AVOID CAR CRASH – MN LAWYERS
Here's what it looked like outside our office earlier today!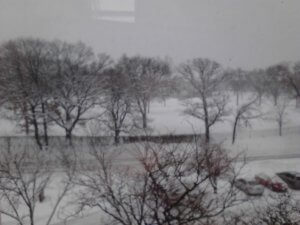 Can you believe it's April 14?  Drive carefully this weekend. There are many cars driving too fast for the road conditions and running off of the road or sliding and causing crashes. We have represented many people injured from crashes that way.
Our best advise is to stay off the roads for now as much as possible. It should clear up in a day or two. But as always, if you are in a car crash because of another driver driving too fast for the road conditions on a snowy road, call us for a free consultation so that we can make sure your rights are protected.  https://rochlinlaw.com/car-accident-lawyer-minnesota/