IS PARENT REIMBURSED MEDICAL BILLS PAID FOR CHILD'S ACCIDENT INJURY?
When a child is injured in an accident, his or her parents are ultimately responsible for the medical bills.  If the family has health insurance, there may be a deductible or co-pays that the parents pay. Our personal injury lawyers handle many cases every year for children throughout Minnesota. One question the parents usually have is whether the parents can get their money back for their out-of-pocket medical bills paid for the child's treatment.  The answer is yes. If your child was injured because of someone's else's fault, you may be entitled to reimbursement from their insurance.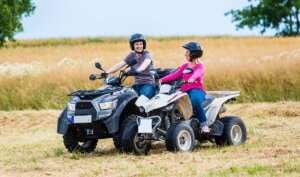 CHILD INJURED IN CAR ACCIDENT
If the child was injured in a car accident in MN, your No-Fault auto insurance will pay the first $20,000 in medical bills with no deductible or co-pay.  After that, additional medical bills will be paid by health insurance and the parents will have to pay the deductibles or co-pays.  However, when our lawyers settle the child's case, we make sure the parents are repaid out of the settlement.
CHILD INJURED ON SOMEONE'S PROPERTY OR BITTEN BY DOG
Likewise, if your son or daughter is bitten by a dog, or injured on someone's property.  Our lawyers will pursue compensation that includes repayment of the parents' payment of medical bills. The property owner may have medical payment coverage to pay for the initial bills. Medical payment coverage is limited, but does not even require proving fault.
With a dog bite, the child is almost always entitled to additional compensation. For other accidents on someone's property, it may be more complicated. However, our lawyers often recover liability insurance to reimburse parents' medical bills by proving the accident was the property owner's fault. Of course, we also pursue additional compensation for the child.
If you are dealing with medical bills because your child was injured in an accident, call us and speak with a lawyer for a free consultation. We will answer your questions. Our primary focus is to make sure your child gets the compensation he or she is entitled to. However, we will also get your money back for any medical bills you paid because of the accident.