OUT OF STATE STUDENT HIT BY CAR IN MINNESOTA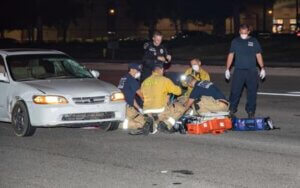 Starting college is a big life transition – both for the student and their parents. It is often the first time a child has real independence. However, as parents, we worry about many things – first and foremost our child's safety.
Minnesota has a great college system, with thousands of students coming here from throughout the country and the world. Unfortunately, accidents do happen. The Rochlin Law Firm has represented many out of state students who have been injured in an accident in Minnesota. Most of these cases have been car accidents. Sometimes the student is in the car, either driving or a passenger.  However, our attorneys have also represented out of state students who were hit by a car in a pedestrian accident.
NO-FAULT INSURANCE FOR PEDESTRIAN HIT BY CAR
Minnesota has a No-Fault auto insurance system. This means that if you are injured in a car accident, you have the right to certain benefits no matter who was at fault. No-Fault insurance applies to everyone, including a student in MN from out of state. There is coverage if you are injured in a car, or hit while walking on the street.
It is important to know what your own insurance covers when your child goes away to college. Obviously your student comes to MN with a car, you will want them to have auto insurance.  However, your family auto insurance may provide coverage if your child is injured while riding as a passenger or hit by a car crossing the street. If the student is hit by a car while walking, there may also be No-Fault coverage from the car that hit them. In most cases, No-Fault car insurance will pay the first $20,000 in medical bills.
INJURY COMPENSATION FROM DRIVER
In additional to No-Fault benefits, your child may be entitled to compensation from the driver who caused the accident. For example, medical bills may exceed the $20,000 paid by No-Fault insurance. Also, if the injury is serious, there may be long-term problems that warrant additional compensation.
If your college student was injured in a Minnesota car accident, or was hit by a car, call us for a free consultation with an attorney.  Our top lawyers have more than 25 years' experience representing people throughout MN.  We will explain the insurance issues to you and make sure your child gets the compensation they are entitled to.