RIDING BICYCLE HIT BY CAR – KNOW YOUR RIGHTS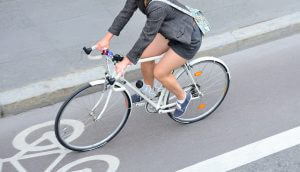 Every year there are more bicycles on the roads. Many cities encourage this by creating special bike lanes. Unfortunately, the attention of drivers has not caught up to this trend. Our lawyers frequently receive calls from people hit by a car while riding their bicycle. However, not all of the accidents are in bike lanes. We have had many cases where the bicycle rider was hit on the shoulder of the road.  We have even had cases where the biker was on an off-road bike path and the car jumped the curb to hit our client.
The Minnesota Department of Public Safety has put out a lot of information on bicycle safety. There is advice for both drivers and bikers on best practices to share the road. Of course, it is important for bicycle riders to follow all traffic laws, be careful, and wear a helmet. However, the truth is, in many cases there is nothing the bicycle rider can do.
BICYCLE ACCIDENT INJURY LAWYERS
If you have been injured in a bicycle accident, call us. An experienced personal injury attorney will answer your questions and explain your rights. The initial consultation is free, and we never charge anything unless you receive compensation. When a car hits someone on a bicycle, there are several important insurance issues that arise. The first concern is which insurance pays your medical bills. Because Minnesota is a No-Fault state, the medical coverage could come from your insurance or the car's insurance, depending on the circumstances. However, those initial medical payments are limited to $20,000.
In addition to the initial medical bills, there can be additional compensation if the driver was at fault. That is why our lawyers start the case by investigating the cause of the accident. We will obtain the police report, contact witnesses, get intersection video and more. Once we prove fault on the car that hit you, we will focus on getting you full compensation. This includes additional medical bills, lost wages, future needs, and pain and suffering.