STEPHEN KING DESCRIBES BEING HIT BY A CAR WHILE WALKING
Our lawyers have represented hundreds of people injured in a car accident, including pedestrians hit by a car on the road. Our focus is to make sure that our clients are fully compensated for their injuries This includes medical bills, lost wages, and pain and suffering.  Pain and suffering from an accident is the most challenging aspect of compensation to get for our clients.  It takes some skill to make an insurance company or an insurance adjuster understand what another person has gone through.  Our attorneys work closely with the client to help the client really recall and relate what they went through.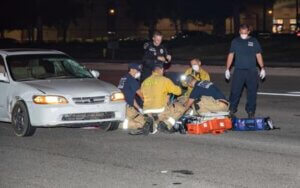 We recently came across a radio interview with Stephen King where he describes the time he was hit by a car while he was walking on the side of the road.  Stephen King is a successful novelist who is very good at setting scenes and describing what people are feeling.  In the interview he likewise does a great job describing his car accident and what he went through after he was run over. Unfortunately, his injuries were very serious. Click here to listen to the interview.
SERIOUS INJURIES TO BE EXPECTED FOR WALKER HIT BY CAR
Not surprisingly, serious injuries often result when a car hits a person walking on the street.  If you have been hit by a car while walking or running in Minnesota, call us and speak with a lawyer for a free consultation. An attorney will answer your questions and make sure your rights are protected. We will work closely with you to hear what you have experienced and communicate that to the insurance company or jury.  Our goal is get you as fully compensated as possible for what you have gone through, and will have to deal with in the future because of your injuries.