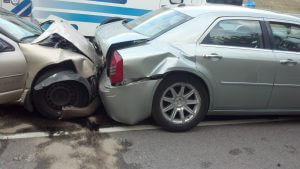 Steps to take before and after a car accident
Being in a car crash is not only stressful; it can be very expensive. A recent survey reported by Fox News found that two-thirds of respondents who were not at fault for their collisions, still experienced high out-of-pocket expenses.   They were often stuck with the cost of rental cars or repairs beyond insurance coverage. Here are some steps you can take to protect yourself financially for a car accident.
Choosing the right auto insurance deductible 
A car insurance deductible is what you pay for a car accident before your insurance company begins to cover costs. If you choose a high deductible, you may save on your premium.  However, in the unfortunate event you have to use your insurance because of a fender bender or a crash, you will have to pay more.  So you want to pick the deductible that fits your budget.
Avoid risky driving habits
Do you text and drive? Do you eat while you're behind the wheel? Even if another driver caused the collision, engaging in distracted driving could put you at risk of being liable.  Need help staying safe on the road? Find out if your auto insurance company has an app or other technology to help you avoid the unexpected when you're driving. Not only will you get information that can help prevent a crash, you will also get a discount on your premiums.
Get a police report after a crash
It's common for people to go through their own insurance company if they experience a minor accident with no injuries. People may exchange partial information with the other party involved in the accident and then leave the scene. However, without the police involved, there's a chance you may not get all of the information you need to provide to your insurance company. Having a police report is important because it gets your side of the story down in a proper way that can be helpful for you. Even if it is a minor crash, people should feel comfortable that making the report helps them and helps everyone involved to get the facts straight.
Document accidents properly
That smartphone in your pocket is a powerful device.
With just a few pictures, we can know where the incident happened, when and with whom. Then the insurance company can handle the customer's claim and go to work collecting their insurance deductible back. If you get in an accident, it's important to take pictures of the damage to both cars. Also get a picture of the other car's license plate, the other driver's license and their proof of insurance.  Even a picture of the other driver would be a good idea if you can get it without too much trouble.
Avoid being underinsured or under-informed about coverage
The survey found that 16 percent of drivers are aware of gaps in their car insurance, but choose to take the risk of driving without the extra coverage. Some examples of add-ons include rental care reimbursement and extra coverage for property damage. It is also crucial to make sure you have appropriate uninsured motorist and underinsured motorist coverage in case you or a family member are injured in an accident caused by another vehicle with too little or no insurance.  This is something to discuss with your agent.
If you are involved in a car accident and have questions about insurance coverage, please call us and speak with a lawyer for a free consultation.