BICYCLE HIT BY CAR – DRIVER HAD NO INSURANCE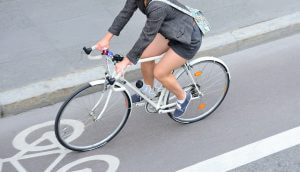 Our lawyers handle bike – car accident cases every year.  Unfortunately, there are always a few where the car that hit our client does not have insurance. When a bicycle is hit by a car, the bike rider can be seriously injured. Many of our cases result in significant medical bills and lost time from work. However, even if the car is uninsured, there may still be compensation available for the bicycle rider.
UNINSURED AUTO COVERAGE FOR BICYCLE HIT BY CAR
If you are injured when you are hit by a car while riding your bike, YOUR auto insurance may cover you. This is called uninsured motorist coverage. People are often surprised to learn that their own auto insurance provides benefits, even when they are not in a car. Even if you don't own a car, you may still be covered by the auto insurance from a relative you live with. We frequently encounter this with children on a bicycle. However, it is important to know that you must make a good effort to identify the driver if they leave the scene after hitting you.
Here's another tip: If you don't have auto insurance or live with anyone who does, you may still be able to get No-Fault benefits through Minnesota Assigned Claims Plan. The Plan will pay up to $20,000 in medical bills and $20,000 in wage loss.
HOW TO CONTACT A BICYCLE ACCIDENT LAWYER
If you were hit by a car while riding your bike, call us for a free consultation. Our lawyers have more than 25 years' experience.  We have represented hundreds of people throughout Minnesota. The insurance issues can be complicated, but we will walk you through them. Our lawyers will make sure your medical bills are paid, lost wages reimbursed, and you receive all other appropriate compensation. You can meet us at our offices in Minneapolis, Woodbury or Edina. Our lawyers also make house calls and we frequently meet clients over Zoom.